We collaborate with producers of papers and speciality boards who share our values, offering innovative, high-quality products, while maintaining the utmost respect for the environment.
Lessebo Paper (Lessebo Design®, Scandia 2000®, Lessebo Digital™, Lessebo Recycled™, Kaskad and Colorit) is a Swedish producer of high-quality, uncoated design papers available in a diverse selection of white shades and colours used in a wide range of applications from premium text and cover books, to corporate communication, office and stationery products, and luxury packaging.
Lessebo has over 300 years of experience in the paper industry and recognises the importance of producing sustainable, high-quality papers to protect the surrounding Swedish ecosystem of lakes and forests. Lessebo Paper has been committed to reducing their level of emissions for many years. With one of the lowest levels of CO2 emissions per tonne of paper among the paper industry, Lessebo's paper is the world's most climate friendly paper.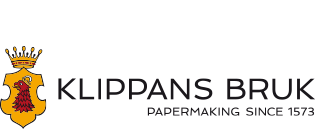 Founded in 1573, Klippans Bruk produces high-quality, deep-coloured tissue paper in Sweden, using mainly domestically sourced raw materials. Their standard colour range already features more than 150 different colours, but Klippan, thanks to the expertise of its technicians, also offers bespoke colours production. The durable white tissue paper provides the perfect base for printing logos and patterns.
The tissue paper manufactured at Klippan conforms to the environmental requirements of the EU Ecolabel certification as a result of their continuous commitment to minimise emissions and pollutants in the air and water.
The exceptional runnability and printability of the tissue paper combined with efficient supply times makes it a popular choice among converters all around the world, especially in the production of napkins or medical-care products.
For over 100 years, Oppboga Bruk has been producing high quality paper boards in Fellingsbro, Sweden.
Businesses worldwide use Oppboga products for display signs, gift cards or packaging of premium products such as high-end food or spirits.
Oppboga is challenging industry traditions with the creative use of its paper boards to reduce the use of environmentally harmful materials. Oppboga stays true to its mission to replace plastics used for signs and packaging in order to avoid to put further stress on the environment.
The vision of Oppboga is to produce world-class paper boards that meet the needs of modern businesses without compromising nature.